Masterclass and Workshop Teachers
Huub de Leeuw ~ Suzuki Piano Teacher and Teacher Trainer
After studying piano at the Conservatory in Utrecht, Netherlands, Huub de Leeuw moved to Matsumoto Japan. There, he studied with Dr. Haruko Kataoka for three and a half years at the Talent Education Institute of Professor Shinichi Suzuki. During and after his graduation in the early '80s, de Leeuw taught a piano class at the same Institute- an exceptional chance to obtain his first Suzuki Piano teaching experience. Since that time, he has returned to Matsumoto almost annually to continue studying the Suzuki approach. Huub de Leeuw is now living in Utrecht, where he has a private Suzuki Piano studio. He was cofounder of the Dutch National Suzuki Association for the Netherlands. In addition to teaching pupils and teachers, he also regularly leads workshops in Europe and the United States. Like most piano teachers who graduated in Japan, de Leeuw tries to stay in touch with the Piano Basics Movement in order to continue developing Dr.Kataoka's way of teaching the piano.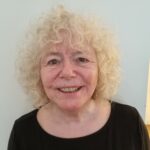 Caroline Fraser ~ Pianist, Suzuki Piano Teacher Trainer and Clinician
Caroline Fraser is from Scotland. She graduated from Edinburgh University with a Bachelor of Music degree and studied at the Royal Academy of Music in London, obtaining the diplomas Licentiate of the Royal Academy of Music (piano) and Licentiate of the Royal College of Music (violin). She obtained a Masters of Music degree with Kodaly emphasis from Holy Names University (HNU) in California. From 1992 until 1999 she was lecturer in music theory at HNU, where she continues to direct the Summer Suzuki Piano Teacher Training Institute. Caroline is an ESA and SAA teacher trainer. After living in Lima, Peru for many years, she currently resides in Edinburgh, Scotland. She has given teacher training courses all over Latin America and the USA, in Canada, Europe, Asia and Australia. She is passionate about promoting a natural approach to learning and to teaching music reading and theory. Caroline Fraser Work experience 1989-present Freelance teacher trainer and clinician; Canada, Taiwan, Hong Kong, Korea, Australia, Germany, Belgium, Denmark, Norway, Poland, Italy, England, Scotland, Argentina, Brazil, Bolivia, Chile, Colombia, Cuba, Dominican Republic, Ecuador, El Salvador, Guatemala, Mexico, Puerto Rico, Paraguay, Peru and throughout the USA. 1992-1999 Music Lecturer, Holy Names University (HNU) 1990-1991 HNU Director, Preparatory Music Dept 1988-2021 Teacher trainer, Director, HNU Summer Suzuki Institute 1981-1987 Music Teacher, the American School of Lima, Peru 1974-2018 private teaching in piano and violin Educational background 1991 Masters in Music Education with Kodaly Emphasis, HNU 1987 California Teaching Credential 1987 Teacher trainer, Suzuki Association of the Americas 1973 LRAM-piano (Licentiate of the Royal Academy of Music), London 1973 ARCM-violin (Associate of the Royal College of Music), London 1972 B.Mus. University of Edinburgh, Scotland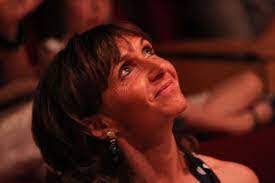 Véronique Perrin ~ Pianist, Suzuki Piano Teacher and Teacher Trainer
Musical journey: Véronique Perrin obtained at the CNR of Marseille the gold medals in Piano (in 1988) and in Chamber Music (in 1989), while completing her training in conducting classes, harmony and drama. With friends, she created the Quatuor Aquarelle which has been performing series of concerts in the region for more than 10 years. At the same time, she follows the Suzuki piano training in Lyon and obtains the International Level 5 diploma. Véronique, who has been teaching since the age of 18 (first at the USCRM de la Rouvière, then at the Suzuki school in Cours Gouffé) then decided to open her own Suzuki class in the 9th arrondissement in 1993: Piano Suzuki Paca. She is now a European trainer, and is regularly invited to give master-classes in Finland and Spain. in Holland, in Sweden… In constant contact with trainers from Belgium, Spain, Holland and England, it seeks development in exchanges and teaching cohesion between the various countries. The training takes place from one school year to another and is sanctioned by 5 levels of graduation. "Today, after 35 years of teaching, my energy has not failed, nor my convictions on learning music. The Suzuki pedagogy is not only a way of teaching, it helps each child to build themselves, to flourish as an adult."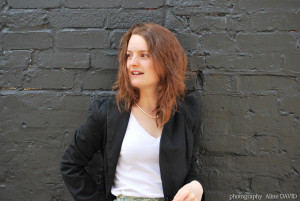 I am a performing pianist and piano teacher and have been working in North London since 2007. I began the piano at the age of 6 learning the Suzuki method myself with a wonderful teacher Kasia Borowiak who is still teaching in Hertfordshire. When I was 9 I got a place to study on Saturdays at the Junior Guildhall School of Music and Drama where piano lessons were supplemented with choirs, ensembles, theory and general musicianship. I then went on to study at undergraduate level and Post graduate level at the CNR de Lyon (France), the Royal Northern College of Music, Manchester University and the Guildhall, respectively.Whilst in my early 20s I realized I had a passion for teaching and I wanted others to experience the same joy from music that I have always had. But I didn't just want to teach 'talented kids'. I wanted to teach everybody, from the beginning, and prove as Dr. Suzuki did that 'everybody can', given the right environment… So having taught more traditionally for about 8 years, I more recently did the Suzuki training. This opened my eyes to how much more fun and rewarding piano lessons can be. Too often I speak to adults who remember their music lessons as scary or boring. Worse still they don't remember anything they learnt! Most people who have instrumental lessons naturally move on eventually and do other things. It is my mission however to give everyone the chance to love music and to take away a skill and a positive experience that will stay with them for the rest of their life. Alongside my teaching I am a performing musician and also a mother. I therefore have experience at either end of the learning process. Pupils have the chance to see me perform regularly which can give them inspiration and a bigger picture of the music world outside of lessons and Suzuki. I also know how hard it is to juggle family life and work so can hopefully give experienced and sympathetic advice on how to make the job of practicing with your children a manageable thing.
Parent Talk and Workshop Teachers
Rebeka Konc is piano teacher from Slovenia. She studied piano in Slovenia, Austria and The Netherlands. She graduated in 1994 at the Music Conservatorium in Graz, Austria with piano pedagogy for classical and jazz music. She has completed Suzuki Method level 1 with Huub de Leeuw in The Netherlands and Music Mind Games level 1 with Silvia Crusellas Maña in Spain. Rebeka has 38 Years teaching experience and is specialised in music improvisation for children and adults. In the past 25 Years she performed classical and jazz music concerts and worked as a piano teacher in Slovenia, Austria, Netherlands, Spain and Norway. She headed the project "Artist Meeting Point" in 2015 and beside that several multicultural events in Tromsoe/Norway between 2014-2019. In the autumn/spring of the Year 2021/22 Rebeka successfully led improvisation workshops for adults with dementia in Odensehuis in Amsterdam South. Rebeka is currently giving piano lessons and improvisation workshops in Amsterdam/The Netherlands. She knows first hand how playing an instrument or singing can improve physical and mental wellbeing and social skills.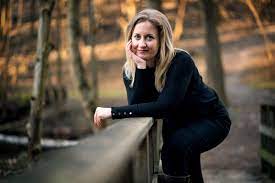 Tina teaches teachers and students from around the world online and in person at the MHMI (Musician Health and Movement Institute) in Oslo, Norway. She has helped Norwegian concert pianist Leif Ove Andsnes and many more world class musicians to learn the tools needed to play effortlessly and to prevent pain and injury through the movement system Timani. You can learn to get rid of physical and mental blocks that stop you from expressing your full potential as a musician. Through cutting edge science and years of experience teaching thousands of musicians from all around the world, at MIHI we provide specialised help for both the physical and mental aspects of music performance.
Lestari Scholtes (1984) and Gwylim Janssens (1985) formed their piano duo in 2003. They are acclaimed as one of the most valued piano duos of their generation, and leading piano duo from the Netherlands. Their 2009 Carnegie Hall debut was praised as 'it could well have been 25 or 30 fingers, so big and well-integrated was the sound. Terrific duo in top form'. In May 2012 Lestari & Gwylim returned to Carnegie Hall receiving great critics by audience and press. The American press about their performance of Stravinsky's Petrushka: "Superb teamwork – two as one – with excellent, turn-on-a-dime transitions between episodes". Scholtes & Janssens performed extensively in 30 countries in Europe, the USA, Netherlands Antilles, Dubai, Zimbabwe, Ethiopia, Chile, Bolivia, Mongolia, Thailand, Vietnam, Cambodia, Singapore, Brunei, Malaysia, Indonesia, Myanmar, South Korea, China and Japan. Their performances have been broadcast by radio and television in multiple countries, among others Dutch Radio4, BBC3, Belgian Klara Radio and Israeli Kol Hamusica. Festivals include e.g. the Festival of Bath, TonLagen-Dresdner Festival der zeitgenössischen Musik, Grachtenfestival Amsterdam, Braunlage Maikonzerte, Basilica Festival of Flanders, Klevische Klaviersommer, Almere Chamber Music Festival, Festival Classique The Hague, Tengiz Amirejibi International Music Festival and the International Piano Duo Festival Poland. The duo performed with many orchestras, including the Rotterdam Philharmonic Orchestra, Residence Orchestra (The Hague), Brabants Orchestra, Israel Symphony Orchestra, Sinfonia Rotterdam and re:orchestra. Their 2019-2020 season leads them to Belgium, Germany, Italy and China and includes arrangements with the Rotterdam Philharmonic Orchestra, Dutch National Choir and Wiener Kammersymphonie; future projects are scheduled in Indonesia, Cambodia, Mexico, Belgium and Austria. The duo won national and international competitions for piano duo and chamber music, among others the prestigious Vriendenkrans Competition of the Concertgebouw Amsterdam (2010), IBLA Grand Prize (2008), Concours Musical de France (2010), the International Chamber Music Competition Almere (2009), etc. and was acclaimed Talent of the Year by Dutch national Radio4. Further prizes were awarded to them at the IVth International Piano Competition of the Republic of San Marino "Allegro Vivo" (2009), 14th Torneo Internazionale di Musica in Verona (2009) and the 12th International Web Concert Hall Competition (2012). Lestari and Gwylim are jury members at the annual IBLA Grand Prize International Music Competition in Sicily. They gave master classes at conservatoires and music academies in Europe, North and South America, Asia and Africa. In 2013, the duo founded the Pianoduo Festival Amsterdam, one of the leading festivals in the world solely dedicated to the genre of piano duo. The festival, still run artistically and produced by the duo, celebrates its seventh edition in 2019, in the historic city center of Amsterdam. Since 2016, the duo hosts a second festival, the annual Kamermuziek Festival Schoorl (Schoorl Chamber Music Festival) in the north-west of The Netherlands. As a duo they studied with the piano duo Sivan Silver & Gil Garburg at the Hochschule für Musik, Theater und Medien in Hanover, Germany. Individually they both graduated cum laude: Lestari at the Conservatory of Amsterdam where she studied with Jan Wijn; Gwylim at the Codarts Conservatory in Rotterdam with Bart van de Roer. The duo met in the Young Talent Department of the Fontys Conservatory in Tilburg where they both studied under tutorage of Ton Demmers. Together they have taken many master classes with e.g. Nikolai Petrov, Alexander Tamir, Jean-Yves Thibaudet, Victor Derevianko, Alon Goldstein, Peter Takács, Paul Lewis and Menahem Pressler. In November 2010 they released their debut CD with works by Rachmaninoff, Debussy and Ravel, under the label of QuattroLive. In May 2014 their second cd 'Paris!' was released at Etcetera Records, receiving great critics by press and audience. Their third cd was released in 2021.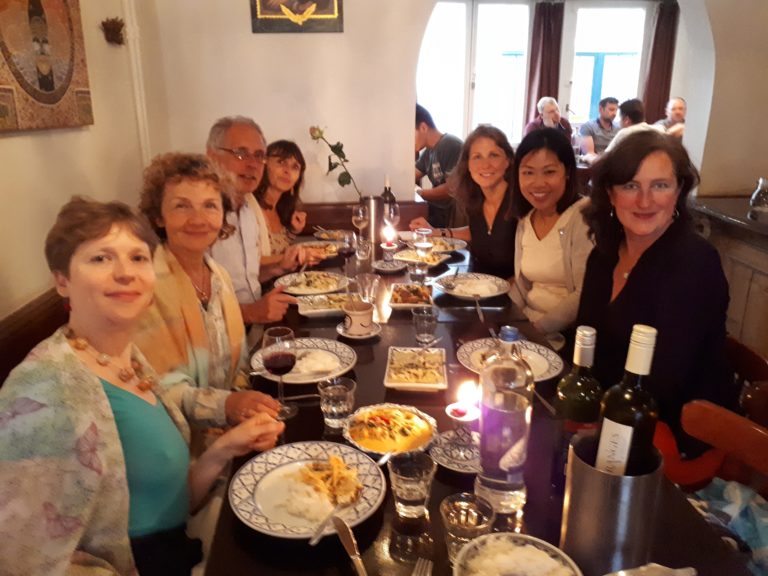 2019 Suzuki Amsterdam Piano Day Teacher Dinner
Co-organisors, Jana Neplechovitsj and Janece Milos enjoying dinner with faculty after the Suzuki Amsterdam Piano Day 2018! We want to thank you for joining us in helping to create a platform for Suzuki pianists and their families to celebrate making music together in Amsterdam in this special way.